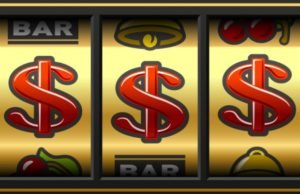 I've never been one to paly slot machines. Even when the first casinos opened, and I eventually went there with friends to have a look, the slot machines just didn't do it for me. This aversion or tolerance at a distance of slots continued for some years. Even when casinos came online and you could gamble your heart away, or all your money, I preferred Roulette, Blackjack or Poker, especially once Texas Hold 'Em hit its height of popularity.
Then one day, I was with my sister, visiting her as she hadn't been well. After lunch she suggested we go for a walk, and as she lived by the seaside, I was only too happy to oblige. We didn't have to walk far to reach the beach, and it was a pleasant day, not hot but not too cold either. On the walk back, we passed by her local social club area which had a mini gambling area, a dining room, and a bar. I thought we would have a drink, and a cold beer would be just the tonic. But no, she sat down in front of one of the slot machines, slipped a £10 note into the money sucker, and away she went.
I was a bit miffed, to say the least. After about 15 minutes, my sister didn't win the jackpot, but did win £100! She gave me some instructions, I took out my wallet, fed the machine, and started pushing the play button. I had put in £5 and after only about 7 or 8 minutes, I had won a mini jackpot of £30. We celebrated with a cold drink and in a way, I was hooked.
Fast forward a few years and I was on a business trip. I stayed in a hotel that had slot machines in the bar below. I ordered a beer, my dinner, and after eating and drinking, I thought a few slots would pass the time. I placed my standard £5 into the machine and played for no more than 3 minutes and suddenly all the bells went off. This time, I did win the jackpot. £750!  I pocketed the money, thanked the staff for a great time and walked out.
I tell this story to show you how easy it is to get hooked on slots. Just a few minutes ago I found a site where you can play for free, learn the game, have a bit of fun and no damage to the pocket. It's called Yaslot, a free slots online library that has a gazillion different games from many other online casinos. I just played Midway Madness, no idea what I was doing. They gave me $2000 starting money, and I won big and at one stage I had to drive a bumper car around a track to collect more money. Lots of fun. Check it out for info as well as games to play. Wicked site!