Some gamblers like to place sensible bets on outcomes of a fairly high certainty, and build up their money gradually in this way, while others like to go for the punts that have the potential to yield massive returns. Sometimes bettors wake up and just feel as though it's their lucky day. Whatever your gambling preference, here are a few ideas to try out every once in a while in an attempt to win large sums of cash.
"Lottery" (CC BY-SA 2.0) by  K J Payne
Lottery
The lottery is the classic low risk, high reward bet, but unfortunately the chances of actually winning the jackpot are over 45million to 1. There is no denying that playing each week is worth the price of the ticket, because you have to be in it to win it, but it is best not to plan in regard to how you will spend major winnings just yet. There are plenty of other ways to enjoy lottery based fun, and online scratch card sites can be an excellent source of entertainment and on average, one in four cards will reveal a prize. Comparison sites like Gr8 scratch card provides options for scratch card games online and various bonuses. Taking advantage of bonuses is certainly one way to boost your chances of winning without risking too much of your hard-earned cash.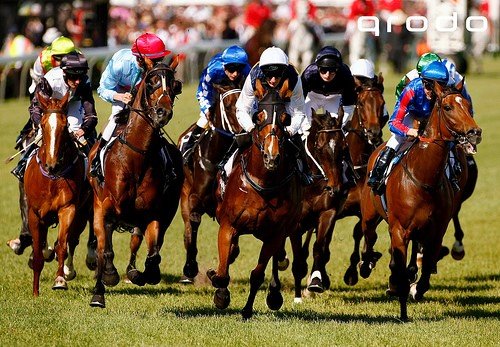 "Sport action" (CC BY 2.0) by  Qrodo Photos
Accumulators
Creating a bet that covers more than one outcome can be a good way of increasing the odds and making your win potential significantly higher. Typical accumulators that produce great rewards include betting on the winners of horse races. Including five selections in your accumulator will usually put you in the region of 1000/1 odds, so if your luck came in you would receive a serious payday.  Football accumulators can often be easier to predict, but unless you include around ten matches, you won't receive quite as long odds as you would on the horses. Accumulating factors within a football game is another option. Bookies will often give long odds on combined bets of first goal scorer and correct score line. If a particular player or team is on form then these outcomes can be easier to guess.
"Wheel of fortune" (CC BY 2.0) by  Zdenko Zivkovic 
Roulette
Roulette is perhaps the pivotal game for having the potential to shatter dreams or make fortunes in an instant. The reason why it is still one of the most popular casino games in the world is its ability to instantly gratify, and the rush it provides while watching the little ball rattle around the track, with fate deciding where it should settle. Many players like to take their fortunes and life-savings, and bet it all on red or black in the hope of doubling it. But this kind of betting presents a serious risk. If you don't feel like staking so much, you can bet smaller amounts on single numbers. A traditional roulette wheel will pay out at 35/1 on a single number, so a £10 bet will return £350 if you are lucky.
Of course, players must understand that the chances of winning on the ideas listed above are slim, but if your luck does come in, it will be a happy day.