"EURO 2016: TUTTI I CONVOCATI DELLE 24 NA" (CC BY 2.0) by  NazionaleCalcio 
Summer is just around the corner, and with it comes a plethora of gambling opportunities to satiate the cravings of all those who seek the rush of a flutter.
Euro 2016, Wimbledon, and Royal Ascot are three of the big events, and players can still play their favourite online casino in between matches and races.
The online casino is the gambler's bread and butter, and those seeking a rush while waiting for their horses to come in, or for Jamie Vardy to be first goal scorer for England, can enjoy a few hands of blackjack or a spin of roulette. This can even be done on mobile now, so if you are attending any of the massive sporting events, you can bring the online casino with you.
Keep an eye out for special offers and promotions at bookmakers and on the online casino sites that also offer sports book odds. There should be plenty popping up in the next few weeks as the Euros gets underway. These include things like money back for bets on matches that end in a 0-0 draw, and double pay-outs on first goal scorer bets if your chosen goal scorer scores in the first twenty minutes of the tie. Looking out for great bonuses like these is a sure way to succeed at betting this summer.
In terms of betting on the Euros, if you have a feeling that a certain team will win it you may want to have a flutter on them. But to get better odds, why not back the top goal scorer and winner in the same bet?  The last two times Spain won the competition, they also had the tournament's top goal scorer (albeit in 2012 Fernando Torres scored three goals alongside a number of other players).
The differences in pay out potential between the two separate bets are quite considerable. For example, if you want to bet on Germany to win, as of early June you will get odds of around 7/2. However, if you bet on a combination of Germany winning and Thomas Muller emerging as the competition's top goal scorer, the odds are around 18/1.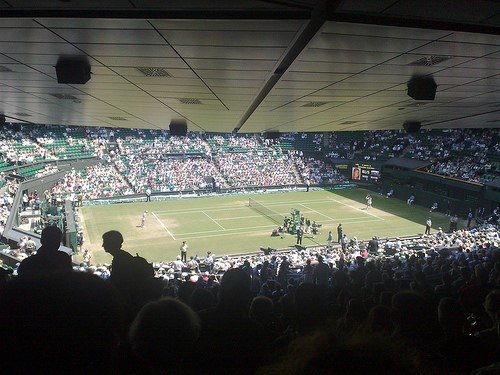 "Wimbledon" (CC BY 2.0) by  njg234908 
If tennis is your thing, betting on an outright winner might not get you the best returns on your stake. Novak Djokovic is in the form of his life, and if anyone does manage to defeat him, it will probably be one of the other favourites, all of whom have short odds as well. Perhaps the best and most exciting way to bet on this tournament would be to go through all the matches and decide who you think will be the victors in each, then whack a huge accumulator on.
Royal Ascot will have more betting opportunities than you can shake a wad of cash at, but make sure you do your research before laying any money down. Check the form guide, jockeys, trainers, and horses and try to make clever decisions.
This summer has it all, and the stage is set for some serious gambling.