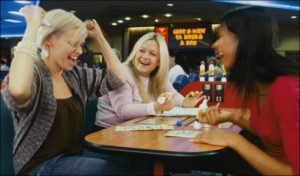 Look, as much as the main pulling-factor of taking a punt on a sports book wager or placing a series of bets on an online casino is indeed the possibility of winning some handsome sums of money, what's important is to try and make the whole process fun. If we're real and honest about it, over your lifetime as any sort of gambler, statistics says that you're going to lose more money than you win. So you might as well make a good time out of placing your bets, as it would otherwise make for a double-loss, so to say…
Make it a learning experience
Okay, so with the knowledge that the majority of gamblers walk away net losers over their lifetime in mind, the natural urge to keep taking a punt in any case proves too strong to ignore outright. But why would you want to try and completely stifle it in the first place? After all, the number of times you have to take a hit in the form of a losing bet will definitely be more than the number of times you revel in a winning one, but it's all about making the fewer wins count more. For example, on each of the 1,713, $0.50-spins on a specific slot you're trying your luck on, the loss is indeed $0.50 at a time, but one lucky spin, perhaps on the 1,714th try, could very well line up those "sevens" perfectly and have you walking away with a mega progressive jackpot that's in the tens to hundreds of thousands, and perhaps even a couple millions.
Looking at things from this statistical point of view is just one of many ways to make your betting exploits a learning experience. Something like knowing a bit about the mathematical stats principals which go into the whole betting exercise certainly makes things more fun, because as surprising as it might be to many people, learning is indeed fun.
Seek out betting channels that are inherently fun
If you're not quite mathematically inclined or perhaps if you take a punt to get away from having to apply your mind (gambling for leisure, relaxation and hopefully pure fun), then it's still not that hard to find great slots that are inherently fun to take a punt on. Fortunately it's as easy as trying as many different variations as you can manage, even if it's on one new platform you've only recently just started playing on. This makes for the perfect opportunity to take advantage of special promotions, like welcome-bonuses and the likes.
Get lost in the back-story
While there are indeed those classic, straight-forward betting channels such as the famous Lucky 7's iteration of slots, for the most part the fun element associated with any slots game resides in its back-story. You don't have to learn all about its history and evolution, or anything along those lines, but often the characters or objects featured in a particular slots game you might be playing are part of a very interesting story that makes the whole game that much more enjoyable.