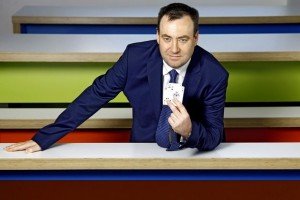 KENNY ALEXANDER loves a bet. The boss of GVC, a gambling company that beat the odds a fortnight ago by winning a £1bn tussle to buy rival Bwin, got his big break through the pages of his favourite publication — the Racing Post.1
The accountant was riffling through the punter's bible hoping to spot a winner. Instead an ad caught his eye. Sportingbet, an online start-up based in Alderney, the Channel Island, was looking for staff.
"It was a wee bit different from what I was doing," the Ayrshire-born executive says. "I've always been interested in sport and gaming. I probably spent more time in the bookmakers when I was at university than I did in lectures."
His gambling obsession started early — at about 13, Alexander reckons: "On the horses, on the football, from when my dad allowed me to do it. When I saw the opportunity at Sportingbet, I jumped at it."
Alexander joined as financial controller in 2000, rising up the ranks to become chief financial officer after impressing the company's founder, Mark Blandford. As punters moved from the high street bookies to placing bets online, the company began to grow. In 2007, Alexander left Sportingbet to join its smaller rival, GVC, becoming chief executive.
At that time, the company had a single operation: an online casino for German-speaking countries. It employed seven people and had a market valuation of £26m. Since then it has grown dramatically through a series of bold acquisitions. Alexander has earned himself a reputation as a deal specialist.
GVC acquired Betboo, a Brazilian operator in 2009. In 2012, the company made its first big move, teaming up with William Hill to buy Sportingbet. The takeover was a bold manoeuvre. GVC and William Hill tabled an opportunistic bid, before using a disappointing trading update to reduce their offer. To the market's surprise, no other bidders materialised, and the deal was done. While GVC took the rest. William Hill took the Australian and Spanish operations.
Since then, GVC has become a powerful member of London's junior AIM market, with a market value of nearly £250m.
Alexander has been a mainstay of the financial pages of British newspapers over the past few months, after he secured his most ambitious deal to date: the £1bn takeover of Bwin.party Digital Entertainment, owner of Foxy Bingo.
In a fiercely contested bid battle, GVC snatched control of Bwin from the clutches of 888, a larger rival, which at one point seemed certain to win. Bwin switched its support between GVC and 888 several times, leading to months of late nights for Alexander and his team. GVC teamed up with the American hedge fund and private equity giant Cerberus to clinch the deal. "The movie will probably be coming out soon," Alexander jokes.
GVC found out two weeks ago that it had won the auction, a deal that will catapult it onto London's main market.
I meet Alexander at GVC's drab London office block, tucked behind Moorgate station in the City. The offices are old-fashioned but have the tell-tale signs of a young company. A huge table football set greets visitors, while workers peer up from their desks occasionally at a flatscreen television showing old cricket highlights.
Alexander is dressed in a sharp blue suit with a blue and white tie and black shoes; a silver watch is on his left wrist and a purple charity wristband on his right. He looks younger than his 46 years and shows few signs of greying, though he looks tired after months of late nights trying to buy Bwin.
His eyes light up when he discusses the deal. The Scot was confident throughout the process, telling journalists in July he would be "staggered" if he lost out. He was eventually proved right.
GVC will issue a substantial amount of shares to finance the deal. The company's shareholder base will be diluted, though Alexander insists they will benefit from the merger in the long term.
"It is the most exciting opportunity we have got. Combining the two entities, the growth prospects are great for both businesses. It's just a shame it took so long for us to get it over the line."
Alexander will become chief executive of the enlarged company and oversee one of the largest sports betting operations.
Sector analysts believe he has what it takes to make the deal pay. Alexander gained market plaudits through the successful takeover of Sportingbet, which has since seen the company reverse its losses. One analyst said: "Kenny is a good operator. He gets on with things."
He is described by those who have worked with him as an easy-going character "on the face of it".
"He'll talk about the football, the cricket, and is up-to-date on most things," said a City source. "But it can be misleading because he is a real operator."
GVC's share price has skyrocketed since the Sportingbet acquisition, and Alexander will hope to continue the run of success, which has seen the shares rise to £4.08p. The Bwin merger will take its market value well over £1bn.
Alexander grew up in the small town of Kilwinning, North Ayrshire. The area was an "interesting" place to grow up, he says.
Along with his father, he enjoyed watching Kilmarnock FC and visiting Ayr races, where he developed an early knack for picking winners. Alexander says his biggest win on the horses to date is £8,000.
Despite his love for the bookies, Alexander finished university at Glasgow, staying in the city to train as an accountant. But he found work at Grant Thornton uninspiring: "It wasn't the most exciting vocation in life. I thought there must be better things to do in your working life than audits."
He then joined a Scottish food manufacturer, Sandyford Foods, as financial controller, and spent a few years there before that fateful glance at the Racing Post. "I tell you what, it was bloody hard work," he says. "People would be in freezing conditions, packing beef. If I ever think this job was tough then I think about what those guys were doing.
"When I saw the Racing Post [advert] I thought, 'This must be more interesting than working in a meat plant'."
This summer's Bwin battle came as part of a huge market shift in the gaming sector. Operators are struggling to cope with a wave of new regulations and taxes, and are coupling up to save on costs.
Ladbrokes agreed a £2.3bn merger with Gala Coral in July, while Paddy Power and Betfair sealed a deal a month later. Jilted at the altar, 888 faces the real possibility of a fresh takeover approach from Hills. Large businesses are in fashion, and those left out of the merger frenzy look vulnerable on their own.
"We'll be a significant player, with size and scale," Alexander smiles.
Like the new giants Paddy Power Betfair and Ladbrokes Coral, GVC will face a more difficult environment as the taxman fixes his gaze on the sector. A "point of consumption tax" introduced in Britain this year has seen GVC's tax bill rise already, according to the most recent set of results.
After winning the Bwin battle, Alexander's attention will be on delivering on the lofty promises made to Bwin investors. He will have to prove GVC shares are worth their weight in gold. GVC also issued £150m in new shares to finance the deal as part of a cash and shares offer. At the height of the Bwin battle, one City figure criticised GVC as "issuing paper like confetti".
Since the deal, GVC's share price has fallen, reducing the value of its bid. In recent days the company's management has bought shares in order to instil market confidence in the gaming operator.
After proving his credentials with Sportingbet, Alexander will cut costs at Bwin, but says he won't take the axe to the company. "There is a fair bit of duplication between the two companies. We have to get the best people of both businesses working together. In any restructuring there will be some cuts made, but for the majority it will be business as usual. We are going to maintain the Bwin office in Gibraltar, for sure."
GVC has promised to save roughly £91m at Bwin by 2017 — no mean feat, considering 888 said it could only cut £45m by the end of 2018. Investors expect Alexander to be a man of his word, however.
Elsewhere, critics of GVC have pointed to the firm's operations in so-called "grey" markets, where gaming is not regulated. Alexander gets defensive on the topic and says most operators receive income from unregulated markets: "More than 50% of our revenue comes from regulated or locally taxed markets."He says he welcomes regulated, stable markets: "If there are higher taxes in markets then that will mean they are regulated, which is good for the industry. It's maturing."
His master plan was enough to convince the Bwin board, and particularly chief executive Norbert Teufelberger, who was said to be a vocal supporter of the GVC bid. GVC and Bwin's investors will now seek assurances that GVC can continue to grow.
After playing a key role in consolidating the sector, Alexander believes GVC will continue to look for acquisitions, rather than become a target itself. "We have approaches all the time, but in six months we'll be looking at new acquisitions."
After sealing the Bwin buyout, Alexander can look forward to getting back to what he loves. He has a few winning bets for the year ahead — he thinks. "Scotland will qualify for the European championships, that's a tip for you."
Despite his early success, the takeover specialist has faltered with a buyout before. Last year, he was linked with a rescue bid for his boyhood football team, Kilmarnock FC, but talks broke down. Perhaps it wasn't meant to be. The club are now at the foot of the Scottish Premier League table.
Though he missed out on clinching a takeover of his beloved Killie, success with Bwin is likely to provide some comfort.
"I'm a lot more confident on Bwin," he laughs. His shareholders will hope he's right.
Vital statistics
Clint Eastwood in The Good, the Bad and the Ugly
Born: April 25, 1969
Marital status: married, two daughters
School: Kilwinning, north Ayrshire
First job: accountant at Grant Thornton
Salary: £730,000
Homes: Perth, Scotland and London
Car: Range Rover
Favourite book: prefers reading the Racing Post
Favourite film: The Good, the Bad and the Ugly
Favourite music: Oasis
Favourite gadget: iPhone
Last holiday: Méribel, France
Working day
Kenny Alexander wakes up at 6am to check a daily report about the previous day's business. He then makes his way into the office, where he meets his directors for a briefing. He often travels to far-flung regions, including the Philippines, Uruguay, Brazil and Israel to oversee GVC's international operations. He typically visits each office three times a year.
He finishes work at roughly 7.30pm, although he often attends industry dinners, and sometimes has a "cheeky game of poker" at Victoria Casino to blow off some steam.
Downtime
Alexander spends his weekends in Scotland. He is an avid football and rugby fan, and supports Kilmarnock FC. A racing enthusiast, he owns three horses, one called Twentytwo's Taken and another ImJoeKing. "My aim is to breed a Cheltenham Gold Cup winner. If you want to make some money then don't invest in race horses", he adds.