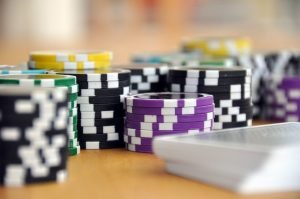 As we all know, casino gaming odds are mostly tilted in the casinos favour. While this might seem unfair, the casino needs to make money to keep their doors open. But, if you play well and have lady luck on your side, you can make a nice profit.
While the majority of wins might just be enough to buy a few rounds of drinks, or go on a shopping spree, some people have famously made a real dent in certain casinos bank balances.
Occasionally, big wins have come from people being at the right place at the right time, when a machine is ready to pay. Other huge payouts have been the result of high stake bets and the casino gods being in their favour. Either way, each story is jaw-dropping and inspiring and will make you want to rush out to try your luck at the nearest casino!
Cynthia Jay Brennan – Megabucks Jackpot Winner
Back in the year 2000, a cocktail waitress Cynthia Jay Brennan clocked off from work and decided to try her luck on a state-wide lottery jackpot called Megabucks in Las Vegas. Little did she know, her life was about to change forever, with her becoming one of the luckiest and unluckiest women of all time.
She certainly was in the right place at the right time, as the Megabucks slot machine decided it was time to offload and hit the $34,959,458.56 life changing jackpot. The next few months were amazing for Cynthia with her enjoying the high life, marrying her boyfriend and making many happy plans to travel the world.
In a cruel twist of fate, Cynthia's celebrations were to be short lived as nine weeks after her amazing win, she was in a devastating car crash which killed her sister and shattered her spine. Now paralyzed and in a wheel chair, she says she'd give the 35 million back if it meant getting her sister back and she could walk again.
Archie Karas – Poker and Craps
Archie is probably one of the best examples of how casino luck can go up and down at the drop of a hat, with him experiencing both to the extreme. His most famous hot streak started in December 1992, when he most famously turned $50 into $40 million. Most people would probably call it a night after losing a cool $2 million at a poker game, but not Archie.
Archie headed over to Binions Horseshoe Casino with only $50 to his name. He managed to blag another $10,000 off a friend to play high stakes Razz, which is a game where the lowest hand wins. Facing Stu Unger, Chip Reese, Johnny Chan and Puggy Pearson (some of the best poker players in the world), he managed to win millions before heading over to the craps table where he won millions more.
He reportedly ended his Binions Horseshoe Casino winning streak, with $17 million in his pocket – not bad coming back from $2 million down!
Kerry Packer – Blackjack
Sometimes you hear stories of weary gamblers struggling for days on end, with casino luck changing like the wind. Not Kerry Packer! He famously walked into the Las Vegas MGM Grand in 1995 and played eight hands simultaneously with a $250,000 stake on each. 20 times in a row he bagged winning hands and within 40 minutes, he'd finished his blackjack session and cashed out a cool $40 million.
Not bad for 40 minutes work! While the casino may have felt the pinch, the dealers couldn't be happier for him as they allegedly got a cut, with Packer leaving behind one million as a tip for them!
Mike Ashley – Roulette
Roulette can be a hard nut to crack, with the ball spin being completely random. It's sometimes best to just choose your favourite number and go for it. Mike Ashley had a certain number in mind and one day in 2008 he walked into a private members casino in London, Mayfair and wagered 480,000GBP on a complete 17 bet.
This means he covered all the splits, corners, streets, six-lines and straight up on the number. He apparently also covered the middle dozen, the middle column, the first half and black to further up his winnings.
His total winnings that day came to 1.3 million pounds with a net profit of 820,000GBP. Just spare change to a billionaire entrepreneur like him, but a staggering amount to win backing one number.
Don Johnson – Blackjack
Don Johnson, the CEO of Heritage Development LLC went on an incredible winning streak from December 2010 to April 2011 banking around $15.1 million. His streak started out at Caesars Atlantic City on the blackjack table netting himself $4.23 million. That same month he bagged $998,000 at the Borgata Hotel Casino & Spa.
A little while later his streak continued, with him taking another $1.8 million from the Borgata and two nights later another $2.25 million. Not satisfied with his wins, he then went on to take $5.8 million from the Tropicana! This has got to go down as one of the hottest streaks in history!
Why not see if you can mirror one of these epic gamblers run of luck, by heading over to get involved at the Sun Bets Casino site. 
Author bio
Katie Lamb worked in casinos for 10 years and now lives in London as a freelance writer and fitness coach.